Snout



Team

Twist

Voiced by

Jermaine Woods (UK), Brian Drummond (US)

Type of animal

Mammoth

Eye Colour

Purple

Fur Colour

Brown
Snout is one of the racers of Kerwhizz, where he is partnered with Twist.
He is the only one out of the "secondary" racers to wear a headset. Snout's biggest personality trait is his love of sprouts, which is commonly expressed throughout the TV show.
Signature features
Edit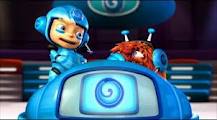 Snout shares his icon of a blue spiral with Twist, as well as the catchphrase - "Style!"
Him and Twist are the second pair to be revealed, where they sing (bold is Snout, italic is both):"I'm Twist; I'm Snout. We're cool, we're neat. With skill and sprouts we're the team to beat!"