"
Publicity hungry, grade-A schemer. Ninki will stop at nothing to win the race even if it means playing a few tricks on the other teams.
"

–- Studio100 Introduction
Ninki is one of the raciest racers of Kerwhizz, she is part of the team Ninki and Pip.
She is the most competitive of all the characters, often whining when she loses. She is also the least intelligent of them (although she can be more intelligent sometimes), meaning she often asks Pip for help, despite ignoring his answers. She is, however, particularly good at History, as shown in Egypt World.
Signature Features
Edit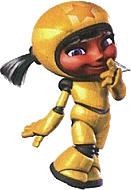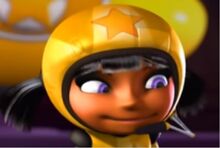 Ninki's signature icon is a star, and her colour in the show is yellow.
While she doesn't have a specific catchphrase, she often praises Pip when he's driving with the phrase "Tip-top driving, Pip!". She also expresses her wish to have the best victory smile, incase she wins.
She is also known for being terrible at singing.
She is shown to become nauseous when spinning quickly.
Ninki sucks her thumb when she sleeps as shown in Bedroom Zoom.
She is one of two characters to be afraid of the dark, the other being Kaboodle.
Ninki's favourite historical time period is Ancient Egypt.
People have suggested that her birthday is April 18, 2002.