Ninki



Team

Ninki

Voiced by

Kriselle Basilio (UK), Janyse Jaud (US)

Eye Colour

Purple

Hair Colour

Black

Born

April 18, 2002
Ninki is one of the racers of Kerwhizz, where she teams up with Pip.
She is the most competitive of all the characters, often complaining when she loses. She is also the least intelligent of them (although she can be more intelligent sometimes), meaning she often asks Pip for help, despite ignoring his answers.
Signature Features
Edit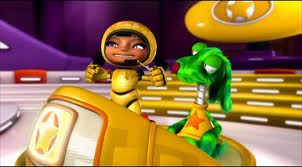 Ninki's signature icon is a star, and her colour in the show is yellow.
While she doesn't have a specific catchphrase, she often praises Pip when he's driving with the phrase "Tip-top driving, Pip!". She also expresses her wish to have the best victory smile, incase she wins.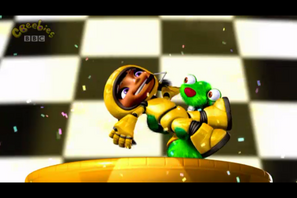 Her and Pip are the first pair to be introduced by the Kerwhizzitor when the teams come out, where they (just Ninki) sing their tune: "I'm Ninki, I thinky that I'm the best; with my hot pooch Pip, we'll beat the rest!"
She is shown to become nauseous when spinning quickly.
She is one of two characters to be afraid of the dark, the oher being Kaboodle.
In Hungarian, Ninki is called "Copfli". In Polish, she is called "Ninka"
Ad blocker interference detected!
Wikia is a free-to-use site that makes money from advertising. We have a modified experience for viewers using ad blockers

Wikia is not accessible if you've made further modifications. Remove the custom ad blocker rule(s) and the page will load as expected.