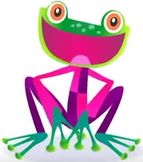 Natterjack is a green toad who hosts the first two quiz rounds of Kerwhizz.
His questions often involve reconising pictures, with activities including:
What is the silhouette?
Which puzzle piece is missing?
What outfit matches Natterjack's?
What is the other half of the painting?
Natterjack occasionally appears during the race, where he tries to direct the teams along the right path. The teams often ignore him, leading them to have problems and/or reach a dead end.
He is the only character to present two questions during the quiz.
Ad blocker interference detected!
Wikia is a free-to-use site that makes money from advertising. We have a modified experience for viewers using ad blockers

Wikia is not accessible if you've made further modifications. Remove the custom ad blocker rule(s) and the page will load as expected.