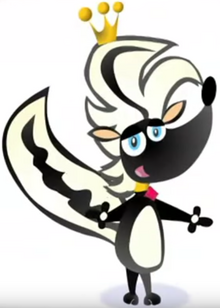 King Pong is a smelly skunk who presents the quiz round "Find the skunk" on Kerwhizz. His round is often predated by a stench, to which the teams turn their noses up to.
His round always features the same theme of him running around between 4 multicolored (Red, Yellow, Green and Blue) items relating to the raceworld. This is disputably the most important round of the quiz because it automatically gives the winning team the choice whether they want the mystery mod. Most the time, they accept the mod, but sometimes they decline.
Occasionally he is replaced by a relative:
Pirate Long Pong Silver (who smells worse)
Queen Pong
Princess Pong
Both Queen and Princess Pong produce a nice fragrance.
Ad blocker interference detected!
Wikia is a free-to-use site that makes money from advertising. We have a modified experience for viewers using ad blockers

Wikia is not accessible if you've made further modifications. Remove the custom ad blocker rule(s) and the page will load as expected.